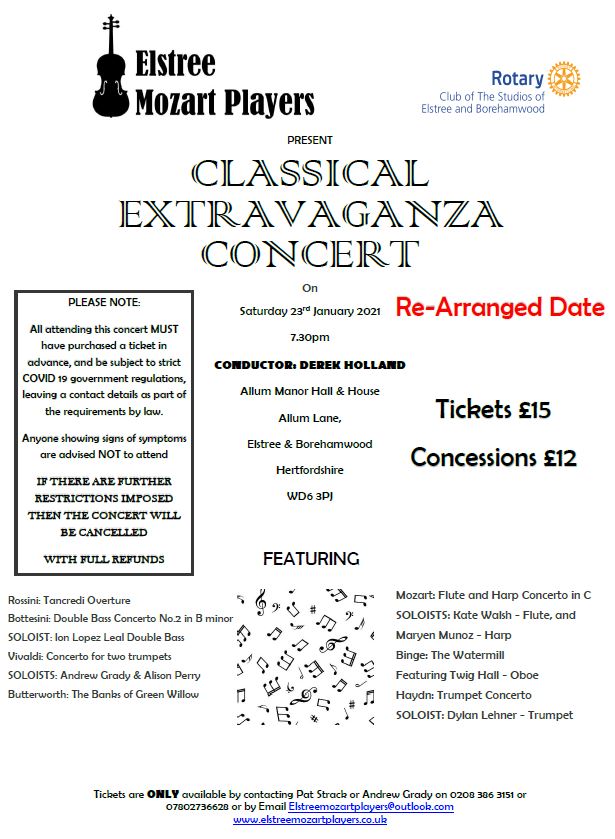 The Elstree Mozart Players, in conjunction with the Rotary Club of the Studios of Elstree and Borehamwood, have rescheduled their Extravaganza concert following talks with Allum Hall & Manor House originally planned for Saturday 14th November 2020.
Due to the announcement of COVID-19 lockdown for the whole of November, this concert has been rescheduled for 23rd January 2020.
The same measurers remain in place for this concert as for the planned date in November whereby every person attending will be tested on arrival, with a register of those attending, to comply with COVID-19 secure venue checks. Anyone testing over 37.5°C will be refused entry.
Elstree Mozart Players lead by Lucy Cumming, conducted by Derek Holland plan to perform a concert of :
Tancredi Overture – Rossini
Double Bass Concerto 2 – Bottesini
Concerto for two trumpets – Vivaldi
Chanson de Matin; Chanson de Nuit – Elgar
Flute and harp concerto – Mozart
The cost for tickets would be £15 with concessions of £12.
Due to regulations in place tickets would be available IN ADVANCE ONLY by contacting either Pat Strack on 020 8386 3151 or Andrew Grady on 07802 736628 or E-mail: elstreemozartplayers@outlook.com
NO TRANSACTIONS WILL BE TAKEN ON THE NIGHT OF THE PERFORMANCE