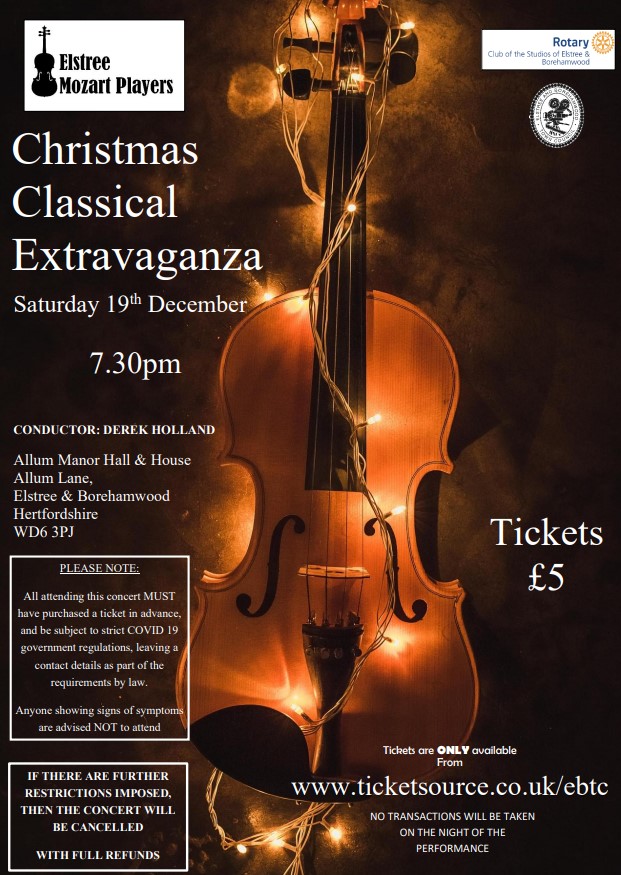 Elstree and Borehamwood Town Council has engaged the orchestra to provide a Christmas concert on Saturday 19th December 2020.
COVID measurers will be in place for this concert meaning every person attending will be tested on arrival, with a register of those attending, to comply with secure venue checks.
This Christmas Classical Extravaganza Concert will take place at Allum House & Hall commencing at 7.30pm, see above poster.
The programme which is oven ready, world beating, gold standard as well as COVID secure is being presented to allow residents of the town to bring some Christmas cheer this year.
Due to regulations in place tickets would be available IN ADVANCE ONLY with contact information taken in line current legislation. Numbers will be limited, to the maximum capacity for the venue under current restrictions.
Tickets are available from the town council web portal:
They are also available from the orchestra by contacting Kate Walsh by E-mail on Kateflute@btinternet.com or phone 0788 9716181
Ticket Price is £5.00
NO TRANSACTIONS WILL BE TAKEN ON THE NIGHT OF THE PERFORMANCE
THIS CONCERT WILL TAKE PLACE GIVEN THE CURRENT GUIDLINES. IF THERE ARE FURTHER GOVERNMENT RESTRICTIONS THEN THIS CONCERT WILL BE CANCELLED WITH FULL REFUNDS
As I am sure you can understand anyone who has a temperature of over 37.5C will be refused entry. There will be strict guidance on how to enter and leave the building. A one-way will be in operation with an in and out route of the premises. Signage will be provide giving guidance on the routes they audience should follow, with hand sanitizers located throughout the hall, and a track and trace system in place for all to complete on arrival.