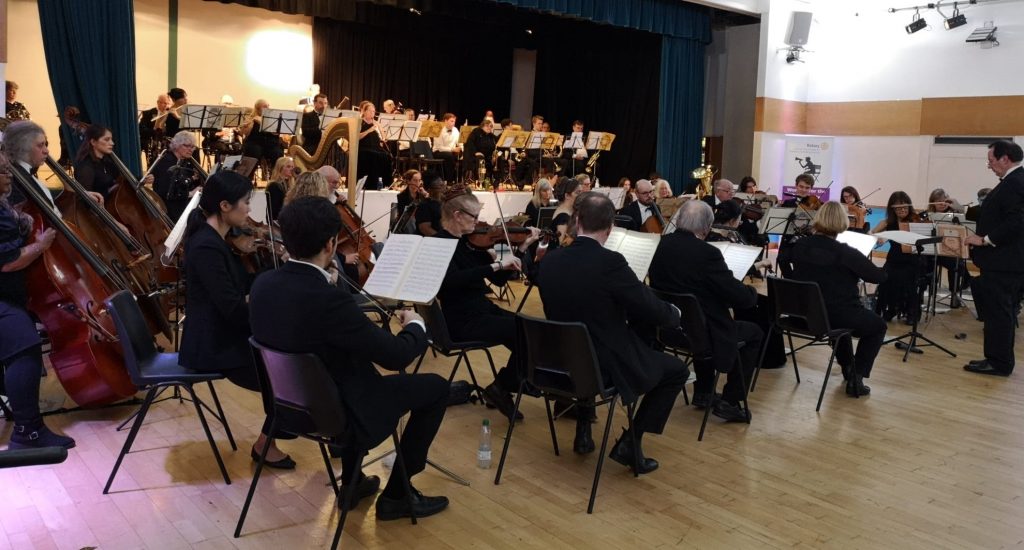 On Saturday 9th October Elstree Mozart players performed their first concert since this 29th February 2020.
The orchestra led by Lucy Cummings and consisting of 70 local musicians, being is aimed to enthuse the cross section of the local community crossing age barriers, gender race and religion, to celebrate music as a performing art.
The evening concert was conducted by one of the founders of the orchestra, Derek Holland
The concert staged at Allum Manor & Hall in Elstree and Borehamwood featured performances of Rossini's William Tell Overture, Eric Coates 'The Three Elizabeth's Suite, William Mathias's Serenade (op 18), Elgar's Pomp & Circumstance March No 4 in G, J Straus II Die Fledermaus Overture, Armas Jarnefelt's Praeludium, concluding with Sibelius's Finlandia.
For the performances of Pomp & Circumstance and Finlandia the orchestra was augmented by the inclusion of members of Borehamwood Brass.
Due to unforeseen circumstances the performance of Phillip White's Tuba Concerto has been rescheduled for our concert in December.
The Mayor of Elstree and Borehamwood Cllr Farida Turner was in attendance for the concert, along with the president of The Rotary Club of the Studios of Elstree and Borehamwood, Victor Eni.
Members of the club assisted with the running of the event, together with running a small raffle raising money for local Rotary Charities.
The concert, which has been organised in conjunction with the Trustees and staff of Allum Hall and manor, being grateful for their support with this concert.
The next concert by Elstree Mozart Players will be on Saturday 20th November at Allum Manor. This concert presents a series of concerto solos featuring Mozart's Flute & Harp concerto, and Haydn's Trumpet concerto.
For information and ticket details please contact either Pat Strack on 020 8386 3151 or Andrew Grady on 07802 736628