Sunday 5th December 2021 7.30pm
Elstree Mozart Players lead by Lucy Cumming, conducted by Derek Holland will be performing a concert in Allum Manor & Hall in Borehamwood on Sunday 5th December 2021
This concert is a seasonal presented concert with music for all tastes in the run up to Christmas this year.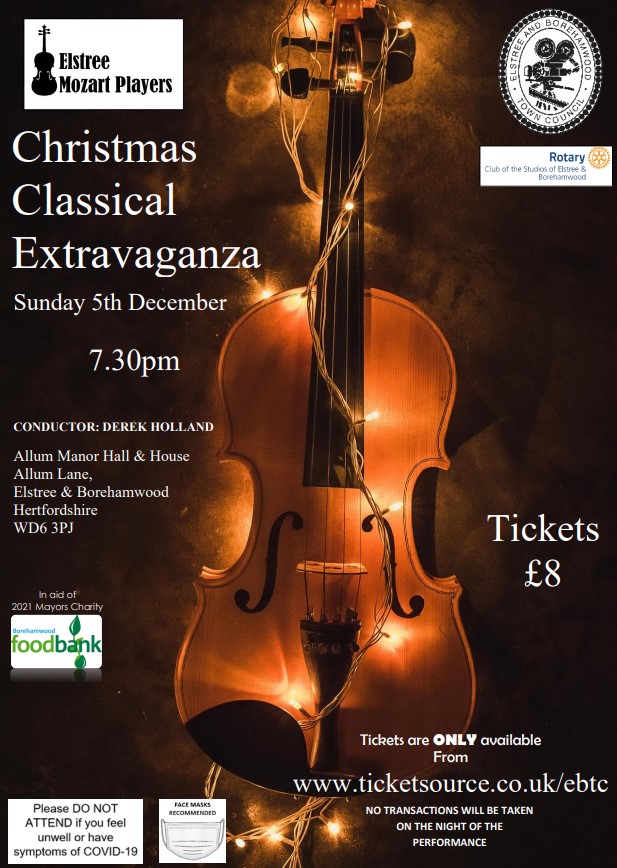 The concert is envisaged to raise money for Cllr. Farida Turner, the Mayor of Elstree & Borehamwood, designated charity, The Foodbank.
The orchestra consisting local musicians, is aimed to enthuse the cross section of the local community crossing age barriers, gender race and religion, to celebrate music as a performing art.
The concert, which has been organised in conjunction with the Trustees and staff of Allum Hall and Manor, being presented in conjunction with Elstree and Borehamwood Town Council, and the Rotary Club of the Studios in Elstree & Borehamwood. We are grateful for all their support with organising this concert.
Tickets will be available on the night, but we urge people to reserve tickets before-hand to ensure your seat. Tickets cost £8.00 which will be available on-line via the ticket source web site:
https://www.ticketsource.co.uk/whats-on/borehamwood/allum-hall-manor-house/elstree-mozart-players-christmas-classical-extravaganza-2021/e-brvkjy
For further information about Elstree Mozart Players, please contact either Pat Strack on 020 8386 3151 or Andrew Grady on 07802 736628 or Email elstreemozartplayers@outlook.com
We look forward to seeing you at this concert.