The Elstree Mozart Players was founded in 2018 by Derek Holland in partnership with Pat Strack and Andrew Grady.
The first concert of the 2022 season was held on Sunday 20th March. The theme of the concert was 'British Light Classics', a favourite of the resident musical director Derek Holland.
The concert included works by Eric Coates, Gustav Holst, Edward Elgar, Lionel Monckton, Haydn Wood, Peter Wilson, and Edward German.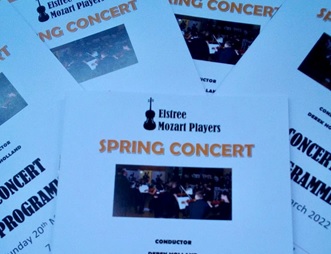 The concert included a special performance, for World Women's Day, of Ruth Gipps Horn Concerto with soloist Jo Withers, which belatedly celebrate International Women's Day.
Soloist Jo Withers, who plays with the London Symphony Orchestra (LSO) perfectly performed the horn solo. After a standing ovation, Jo slipped quietly back to the orchestra to play in the next piece.
It was wonderful to welcome the only living composer from the evening's programme of English light Classics. Peter Wilson's Caribbean Carnival tunes lifted our spirits. Peter came to the concert from Greenwich to hear his compositions performed.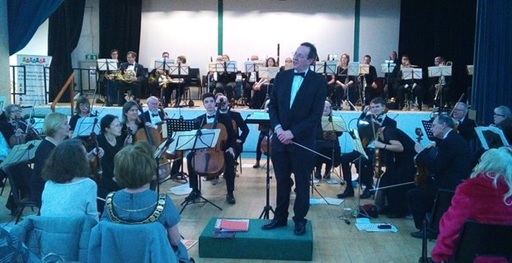 Thank you to the front of house team for the evening: Phyllis Abrahams, Sandra Parnell, and Sam Covil, plus also the refreshments team: Sasha Capocci, Irmine Mason and Sylvie Scanlon.
The concert was supported by Town Mayor Cllr Farida Turner. Farida has supported all of the concerts during her year in office.
The concert is being organised in conjunction with Allum Hall and Manor, raising £100.00 for the Peace Hospice in Watford, and Borehamwood Foodbank.
The orchestral management of Elstree Mozart Players would like to thank Allum Hall & Manor Trustees for their assistance in staging the concert in their hall.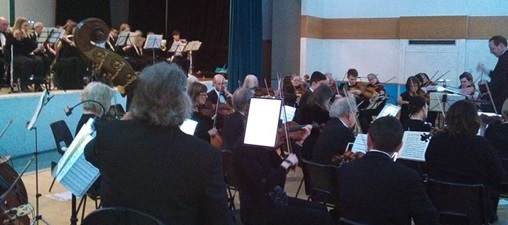 The next concert by Elstree Mozart Players will be on Sunday 12th June, in All Saints Church in Shenley Road, Borehamwood.
This concert will feature works by Rossini, Faure, Weber, Mozart and Beethoven. It will also include the first performance of a Concertino for oboe and strings by John Wolfe, plus a Mansion House Waltz by Peter Wilson.
It is envisaged that this concert will be supporting the Ukrainian Crisis Appeal.
Tickets £15.00, with £12.00 Concessions. Tickets bought in advance can be purchased at £10.00 per head.
For anyone requiring tickets or more information about the orchestra, or is interested in becoming a Patron of the orchestra, then please contact either:
Pat Strack on 020 8386 3151 or Andrew Grady on 07802 736628 or E-mail:elstreemozartplayers@outlook.com