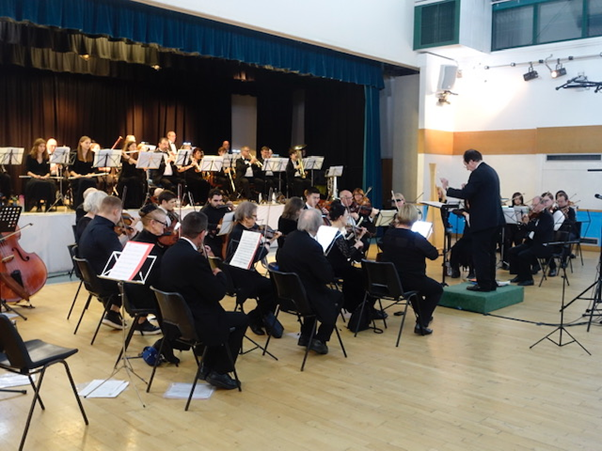 The Elstree Mozart Players was founded in 2018 by Derek Holland, in partnership with Pat Strack and Andrew Grady.
The third concert of the 2022 season was held on Saturday 8th October 2022 at Allum Hall & Manor.
The proceeds from the concert are to go to the Rotary Club of the Studios of Elstree and Borehamwood which raised around £200.00 for work the club does supporting several community-based projects.
The concert featured works by Offenbach, Walton, Smetana, Coates and White.
Sasha Capocci, President of the Rotary Club of the Studios of Elstree, and Borehamwood welcomed everyone to the evening's concert.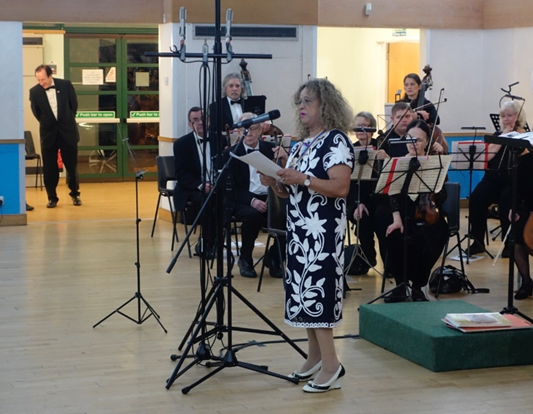 Also in attendance was the Mayor of Hertsmere, Cllr John Graham. In addition, Cllr Clive Butchins, Deputy Town Mayor, along with other representatives from the town council.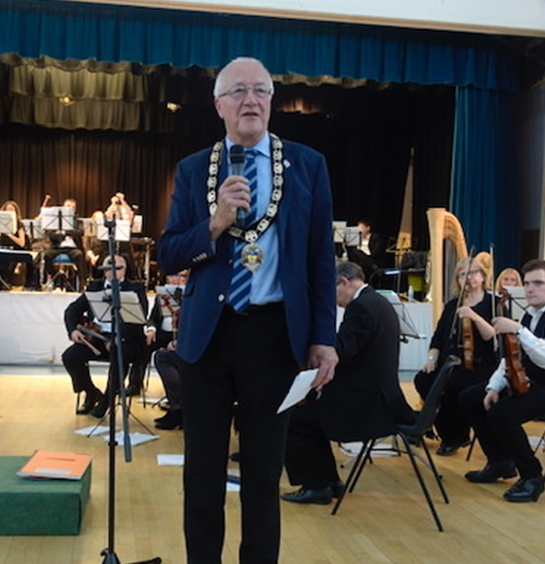 As a mark of reflection to her late majesty the Queen the orchestra performed Elgar's Aubade from the Nursery Suite.
The concert a performance of ' Max Bruch's Violin Concerto No1 in G Minor Op 26, performed by Albert Kayedpour, currently in his final year of Postgraduate studies at the Royal Academy of Music, Albert gave a wonderful performance of this concerto, which received a standing ovation from the audience.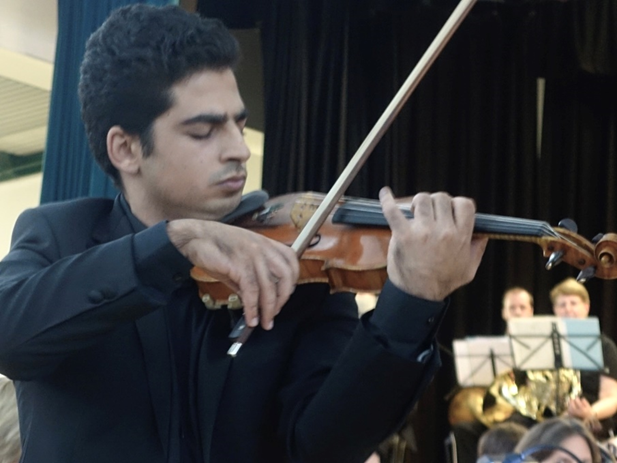 At the close of the 1st half of the evenings concert the orchestra performed William Walton March Crown Imperial, a work that has been performed at the coronation of King George V1, and our late monarch Queen Elizabeth II in 1953.
The concert also featured Ralph Vaughan Williams Tuba Concert, performed by Nathan Mansell. Nathan began playing the Tuba whilst at primary school at the tender age of 7, joining Borehamwood Brass at the age of 10.

Nathan is now in his 4th year studies at the Royal College of Music, and gave a thrilling performance of this work, which was greatly appreciated by the audience.
The concert also featured two works from the orchestra's resident composer Peter White: Concert March Team Spirit and a concert Waltz Sapphire Blue, with the composer joining the orchestra playing the piano.
The evening was rounded off with a resounding performance of Eric Coates famous Dambusters March.
The orchestral management of Elstree Mozart Players would like to thank Allum Hall & Manor for hosting this concert.
In addition, we are also grateful for the support received from the Rotary Club of the Studios of Elstree & Borehamwood in staging this concert, in particular Andrew Grady, Michael and Louise Ezuma, Nick Male, and Pat Strack, and Sasha Capocci, with assistance from Erika Grady.
The next concert by Elstree Mozart Players will be on Saturday 19th November in Allum Manor & Hall, Allum Lane, Elstree.
This concert will feature works by Suppe, Montague Philips, Sullivan, J Strauss 2, and Elgar.
Tickets will be £15.00, with £12.00 Concessions. Tickets bought in advance will be 10.00 per head.
Would anyone requiring tickets, more information about the orchestra, or interested in becoming a Patron of the orchestra, please contact either:
Pat Strack on 020 8386 3151 or Andrew Grady on 07802 736628
or E-mail: elstreemozartplayers@outlook.com