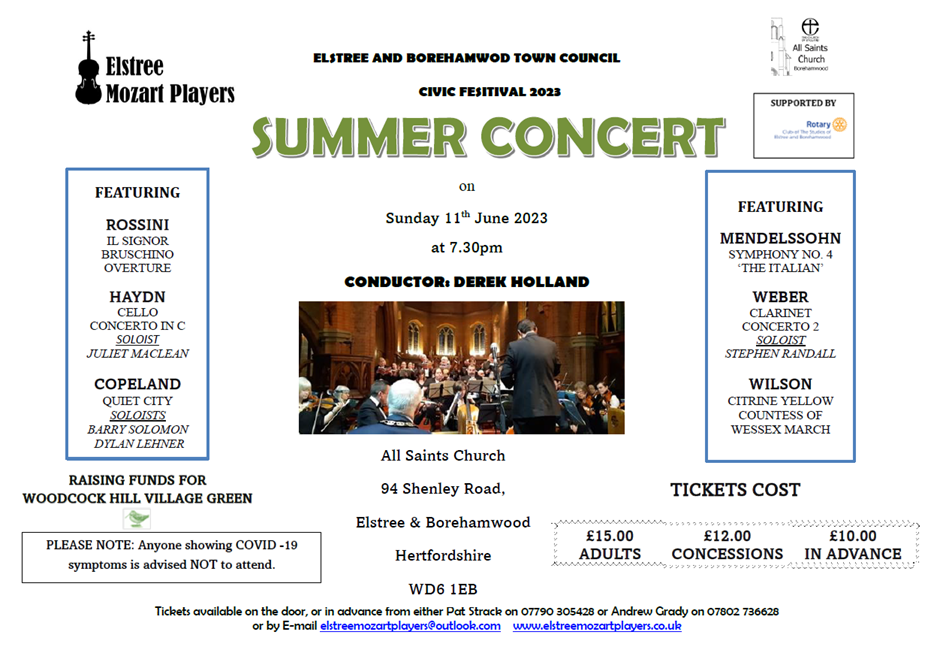 The next concert is on Sunday 11th June 2023 at 7.30pm we will be performing a concert as part of Elstree & Borehamwood Town Council's Civic Festival.
The concert will include music by Weber, Mendelson, and Wilson, including performance of Haydn's Cello Concerto, soloist Juliet Maclean.
In addition Barry Solomon and Dylan Lehner will be the soloists in a performance of 'Quiet City' by Copeland.
The concert will be rasing funds to support Woodock Hill Village Green
Tickets cost £15.00 with £12.00 concessions on the door with tickets available at £10.00 in advance from Ticket Master https://www.ticketsource.co.uk/elstree-mozart-players/t-eaqqlpx
For more information, please contact either:
Pat Strack on 020 8386 3151 or Andrew Grady on 07802 736628
or E-mail: elstreemozartplayers@outlook.com